As a barista, I'm always on the trail so new coffee experiences, so when I took a trip to Berlin this spring, I was over the moon. Berlin is an up-and-coming name in the world of coffee, and I had come prepared. I made a list, checked it twice, and promised myself that I would hydrate as much as possible. 
I was ready… or so I thought. 
I expected greatness, but what I didn't expect was the circuitous journey that I would take to get there. 
The thing to know about Berlin coffee shops, is that they are hidden, and well-hidden at that. Unlike in the United States, coffee shops in Berlin often masquerade as something else, like a barber shop, a stationery store, or as the first stop on my trip: a Vietnamese clothing outlet. 
Companion Coffee
I heard about Companion Coffee as I hear about most things: by asking someone. 
"Oh yeah," said the Australian barista I had questioned (all baristas in Germany are Australian), "you should check out Companion, they're doing some cool things over there." 
It was about eight thirty in the morning when I set out from my AirBnB in Kreuzburg, one of the "hip" neighborhoods in Berlin. I walked the fifteen or so minutes to the road where Companion was supposed to be located. People in Germany tend to be up and about a bit later than we are in the States, so the streets were fairly quiet. A handful of students heading towards class. The sun yawning its way over the horizon. 
An important note at this point in the story: I did not have access to Google Maps on my quest. I was traveling the good old-fashioned way: by taking pictures of maps and referring to them as I walked. 
This might explain in part why I got so confused searching for Companion. I walked confidently down the street looking for the address. I walked confidently back the same way, still looking for the address. I turned to give it a third sweep when finally, as if by magic, a sign appeared. It was a mirror with words written in white. 
"Voo Store" the sign read. And in tiny letters underneath "Companion Coffee". 
I walked in, feeling awkward, certain that I was the first person in the store. I smiled shyly at the salespeople, and tried to look like I might buy a thirty euro shirt. Around a corner I saw the familiar glint of an espresso machine, and I was home. 
Everyone has a different technique on their coffee crawls. The more dedicated (and those with higher caffeine-tolerance) go for drips and espressos and flights etc. I prefer to compare cappuccinos and sometimes sample specials. 
I ordered my first cappuccino of the day, and it was delicious. For me a cappuccino has to be a blend of perfect milk texture with a shot of espresso that can hold its own. The cappuccino at Companion did the trick. 
After luxuriating in my experience and taking some notes, I felt awake enough to engage in conversation with the fellow who had made it for me. 
Although our first interaction had been in German (ich spreche Deutsch), I had overheard enough to know that he was Australian (like I said… all baristas in Germany), so I talked to him in English. 
I told him that I was a barista from California on a hunt for the best coffee in Germany. In return he gave me a list long enough to keep me occupied the rest of the year and offered me a cup of tea.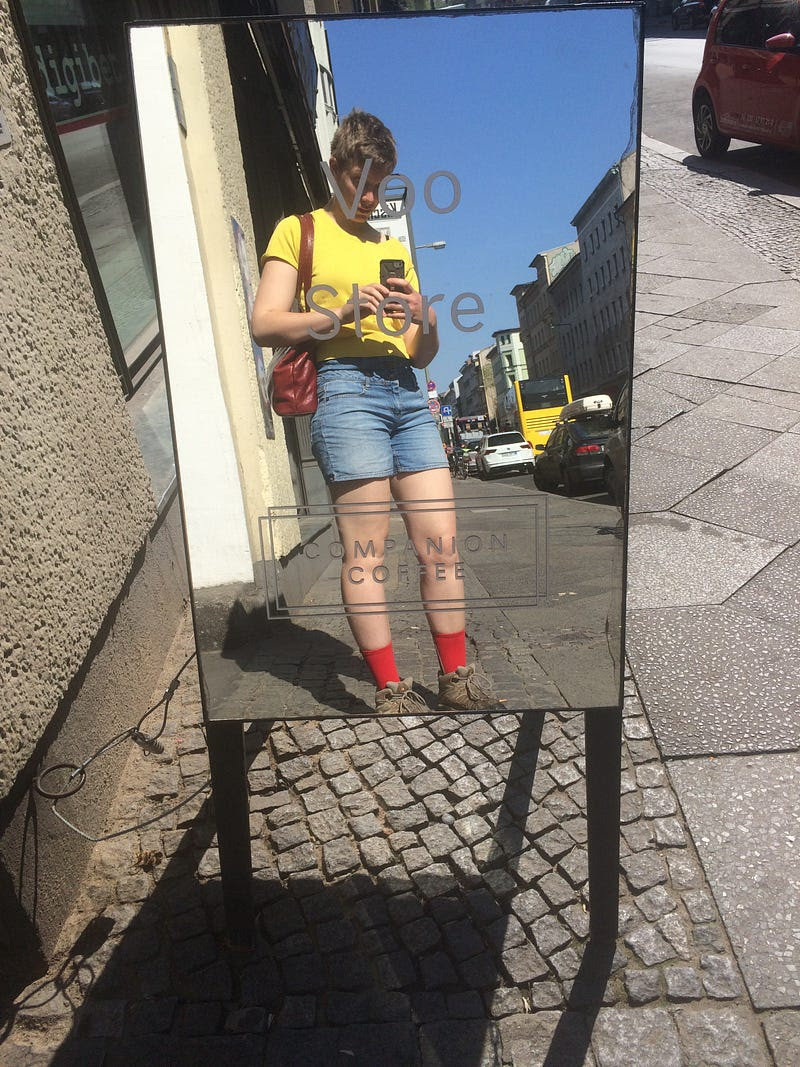 Bonanza 
My second stop was Bonanza which has been around for twelve years and is considered one of the big names in the Berlin coffee scene. I headed for the roastery definitely so I could check out the vibe and not because it was way closer to where I was staying… 
Luckily, Bonanza is not far at all from Companion, and after a lovely walk through the spring sunshine, I found a nice big sign for Bonanza. Unfortunately, it wasn't as simple as all that. The sign had an arrow on it that seemed to be pointing directly towards a nearby kindergarten. 
I walked around the corner to see if that was where the ambiguous arrow meant. There was nothing around the corner. 
I returned to the sign. There it stood in its commanding black-and-whiteness. Bonanza. And there was the arrow, stubbornly pointing towards a kindergarten. 
No, I thought, nice try. I'm not going to be the weird tourist who interrupts children learning their ABCs. So, instead, I walked down what appeared to be a service road leading to a back alley. 
Which, obviously, was the correct way to Bonanza. 
Once there I admired the lovely roasting facilities, the towering indoor plants, the Australian baristas, and to switch things up, a nice cortado. A bit lighter than Companion's roast, I enjoyed the espresso thoroughly and then took my leave. Jittery, ready for my next and final stop, and very thankful that I hadn't walked in on the kindergarten.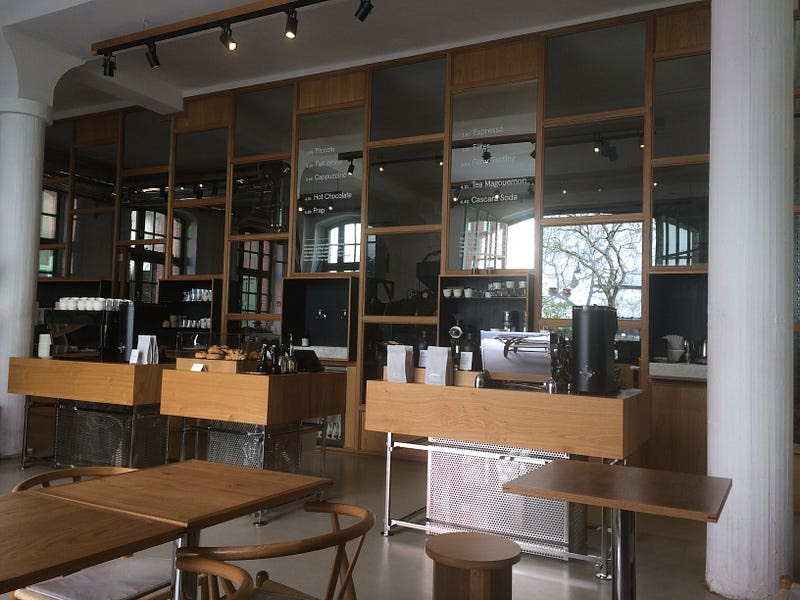 BARN
My final destination was BARN coffee. Another big name in Berlin. Shamefully I must admit that this was not my first time searching for them. The day before I had scoured a three block radius, stopping in nearly every storefront where I thought it must be located. 
This time, though, I had minutely mapped out my route and refused to take even a single step that I hadn't written down beforehand. I wasn't going to have any spontaneous fun, but I certainly was going to have some coffee from BARN. 
Brow furrowed, feet a bit sore, still flying on a caffeine-buzz, I made my dedicated way to a tiny shop a tiny back alley. It was crowded. It was hot. I was overjoyed. 
I had a few minutes to take in the place, the classic American indie playing on the radio, the baristas smiling bored smiles, an Italian family asking thirty-five questions and then buying some bottled water. 
I waited my turn and studied the menu. Where I found listed under specials something called a beetroot flat-white. I was sold before I finished reading the description. 
The barista who took my order was kind as I fumbled with my multi-colored Euros, and in no time I was staring into the purple-pinkish face of my final coffee drink of the crawl. 
No coffee should look like this, I thought. But I tried it anyway. 
Like my journey through Berlin, drinking the beetroot flat white at BARN on a hot April day was confusing, unexpected, and utterly delightful. The earthy sweetness of the beet accentuated and offset the roastiness of the coffee. I was, once again, over the moon. 
There were so many other wonderful coffee shops I could have visited, and so many other lovely coffee people I could have met. But I only had the capacity I had and only three days in Berlin. 
I'm not sorry, though. It gives me a great reason to return. And the next time, I'll be prepared, knowing that great coffee in Berlin may be hidden around any corner, waiting to welcome me back in.